Posted by besttradeshowdisplay.com on Jan 16th 2018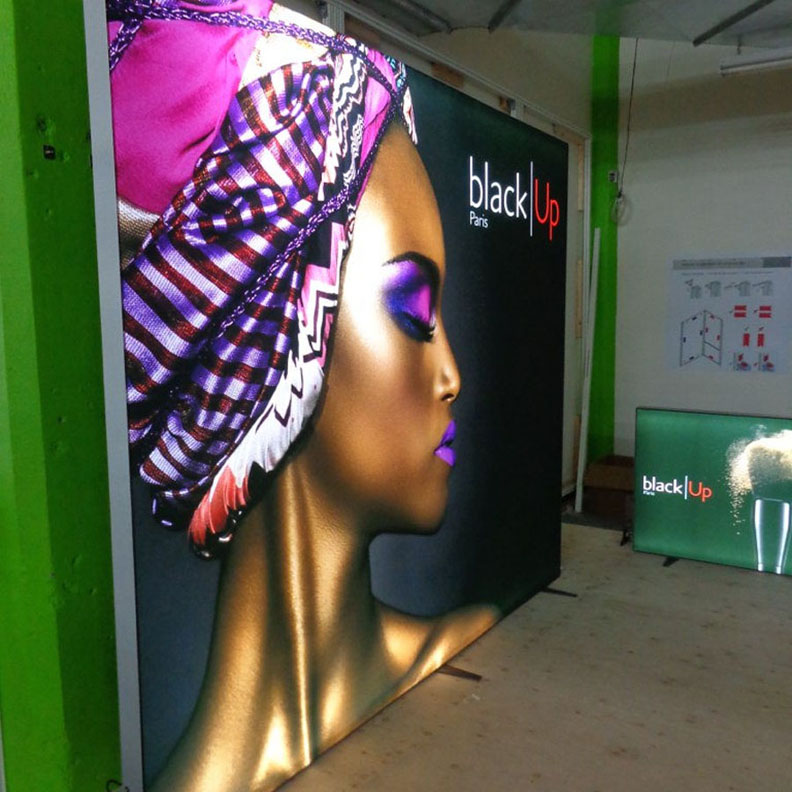 This LumiWall 10' x 8' LED Backlit Fabric Display is constructed of aluminum extrusion and features SEG press fit fabric graphics for hassle free set up. Heavy duty aluminum feet ensure maximum stability. Graphics are printed on premium fabric designed to provide maximum illumination while maintaining vibrant colors. SEG is a high-resolution dye-sublimated fabric graphic finished with a thin silicone strip (or welt/gasket). The silicone strip is sewn directly to the edge of the graphic, and the strip is then inserted into a frame with a recessed groove. The size of the graphic must be precise so the fabric is taut when installed in the frame. The result is a large format graphic that mimics the old fashioned hard panel graphics commonly found on custom displays and interior spaces. The silicone edge means you see more graphic and less frame.
The Entire unit disassembles and packs flat in 2 wheeled rotomolded transport cases for unparalleled protection. Single or double-sided SEG press fit. MADE IN THE USA. Lead Time 10 Days Order online or call 866-652-6126
What are the benefits of SEG?
Storage and Shipping. Fabric is lighter than many other graphics. When folded neatly, fabric graphics take up much less space than traditional direct print graphics.
Care. Fabric graphics can be washed and steamed and are just as durable and long lasting as traditional graphics.
Lightweight. Larger graphics weigh less, perfect for draping or creating space definition.
Cost. More image bang for the buck!
Green. There are the obvious transportation and storage benefits. Even more exciting is the growing list of fabric options created from recycled materials.
No Glare. Fabric is the perfect choice for media walls or any backdrop that is being photographed or video recorded.
Versatility. SEG fabric can be applied to most displays or event structures.
Less Visible Frame. The silicone edge means you see more graphic and less frame.